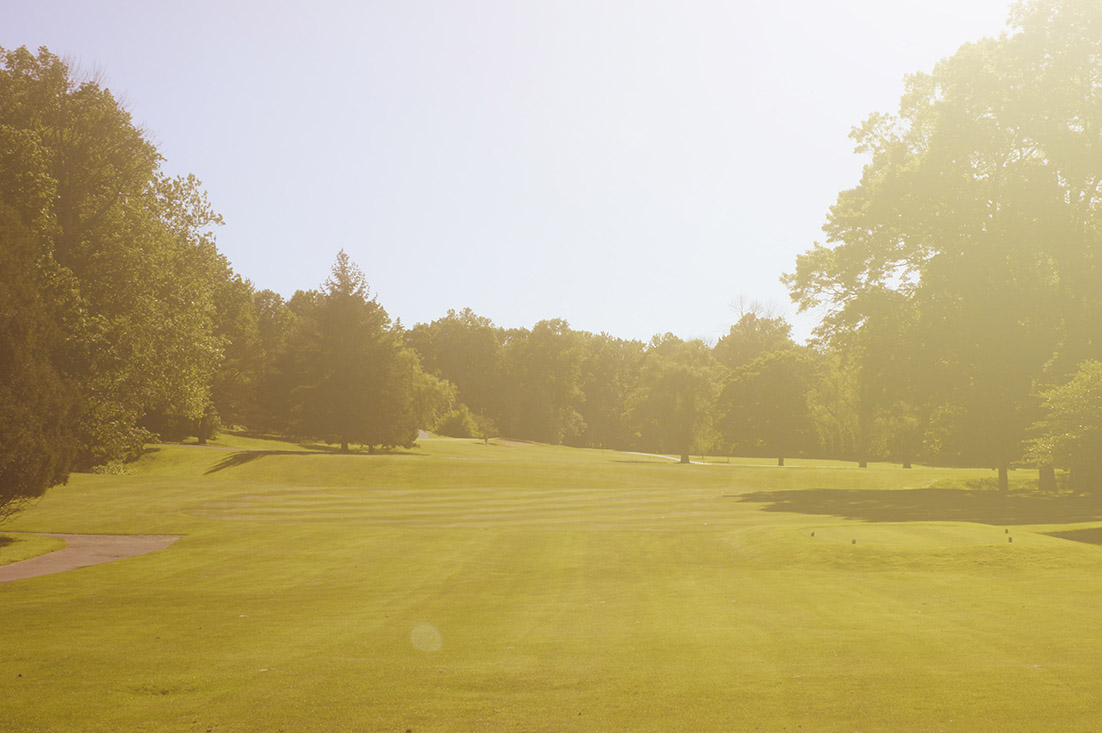 Hole 1 | 343 yards, Par 4
This hole requires an accurate tee shot, there is trouble both left and right. The second shot is slightly uphill to a green that slopes from left to right with two bunkers on the right and rough to the left. Missing this green makes an up and down very daunting especially if you get above the hole. Many shots that hit the green roll off into the collar making the next shot very difficult. For our gold tee members and ladies playing from the red tees, the large oak tree to the right requires a precise tee shot to achieve success on this hole.
Hole 2 | 343 yards, Par 4
This hole also requires an accurate but not long tee shot. There are woods left, and trees right and depending upon pin location, selecting the proper side of the fairway to hit is critical. The green is slightly elevated and has multiple undulations and putts with lots of breaks. A bunker short and right will certainly come into play if you come up short on this approach. Anything long of this green is nearly an impossible up and down. Get your second shot on the green and take your chances with a two putt for par.
Hole 3 | 422 yards, Par 4
This is the longest par 4 on the course. A drive to the right of the large cottonwood tree is best suited to hit your approach to the green which is slightly downhill. With out of bounds left, this tee shot will bring fear to all skill levels. The green slopes from front to back with a bunker gathering shots that are short and right. There is also out of bounds over the green so a precise second shot is required for success.
Hole 4 | 171 yards, Par 3
This slightly uphill par 3 always plays longer than you think. With a large two-tiered green, depending on the flag you must get your ball on the right plateau. When the pin is in the back anything short will roll down leaving a lengthy putt. When the pin is in the front shots that get above or to the side of the hole make for difficult putts. Take your par and run on this hole.
Hole 5 | 390 yards, Par 4
A drive must be positioned to the left side of the fairway to have a clear shot at the green. Wayward tee shots will result in punching out or hitting something low to play a run up shot to the green. The green is downhill from the fairway and slopes slightly front to back. This is a scenic view from the fairway down to the river. This is a large green and can result in having a very lengthy putt. This can be a good birdie hole if you hit a good drive.
Hole 6 | 341 yards, Par 4
Don't let the yardage fool you, this is a challenging hole. The drive usually with an iron or hybrid must be hit right to left. A tug to the left and you will end up in the gully out of play, a push to the right puts you in the trees and punching out. From your drive your second shot is to a small elevated green. Shots that do not find the green are a challenging up and down to say the least. A par here is a great score.
Hole 7 | 377 yards, Par 4
This tee shot must be hit straight or slightly left to right. A large cottonwood tree on the right hand side comes into play off the tee. You need to navigate around that tree without going too far left and being blocked out of the hole. With a good tee shot you have a straightforward shot to a small green sloping front to back with bunkers on both sides. Hitting this green in regulation gives you a great opportunity to score well.
Hole 8 | 171 yards, Par 3
Although this hole is significantly downhill, it tends to play true to the yardage. Hitting this small green will most likely result in a good score. If you're going to miss it, miss it short, trying to get up and down from either side is very challenging.
Hole 9 | 460 yards, Par 5
With the river on the left most certainly in your mind for this tee shot you have a couple of options. For the long hitters, this green can be reached in two but requires two well executed shots. For most players a tee shot short of or just to the left of the fairway bunker is preferred. A layup to the bottom of the hill for a shot of 100 yards or less is usually the play. From there you are pitching to an elevated green that has a false front. Shots that do not carry this ridge will come rolling off the green to the fringe. Get your ball onto the middle of this green and you will be fine. This is a good risk/reward hole. You can make a birdie as easy as you can make a double bogey.